All my work is handcarved. Usually in any one of the classical styles. I spezialize in heraldic crests, but do any kind of custom work, such as mirror frames, wall clocks, name plates for leisure boats, company logotypes, etc. Either according to my own design or customer provided patterns. Please contact me for further information.
Thorleif Aiff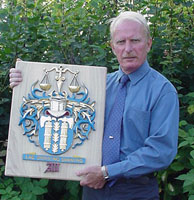 Born 1954, in Victoria, B.C. Canada
Education:
1975-1979 "Stenebyskolan", Dalsland, Sweden. Journyman in cabinetmaking.
1989-1990 "Amu-Gruppen", Tibro, Sweden. 1 year of ornamental woodcarving.
1990 Differrent weekly courses in woodcarving at, among others, "Geisler – Moroder Schnitzerwerkstaette", Elbigenalp, Austria.
1992″ Hantverkscentrum i Tibro AB", teaching ornamental woodcarving.
1997 Start my own carving workshop, T.A. Woodcarving, continueing teaching at Hantverkcentrum.
"The Woodcarvers" friends are:
The Swedish Heraldic Society
Viking-/ medevial shopping!
Heraldic design – Magnus Baeckmark
S.P.Q.R